Post by GhostComanche©® on Mar 8, 2021 0:30:47 GMT
Best Fishing Spots in Richmond
By Liz Becker at
Richmond.com
In a fast-paced, high-tech world, it's nice to know some simple pleasures never change or go out of style. Fishing is one of them. And family fishing trips are a great way to get your kids out in nature away from screens and schedules. You can teach your children the virtues of stillness and patience, and if all that goes over their head, they'll get a kick out of buckets of worms and learning how to reel in a big catch.
Even if you don't have a full day or weekend to get away, Richmond has plenty of conveniently located public fishing spots. Whether you're a beginner or seasoned angler, all of these spots offer scenic surroundings and public fishing access. To pick our five favorites, we focused on locations that offered the following features:


Public fishing allowed


Facilities/bathrooms available


Kid-friendly, scenic setting


We can't guarantee that you'll catch anything, but we can at least promise that these fishing spots will make for a memorable, relaxing family outing. So, pack up your tackle box, grab your fishing poles, and get ready to throw out a line at one of our five favorite fishing spots in the Richmond area!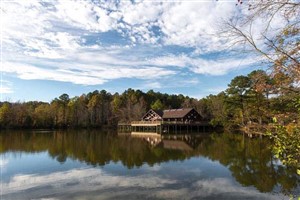 1. Three Lakes Park
The lakes at this 90-acre park, built as borrow pits during the construction of I-64, offer fantastic fishing right in the middle of Henrico County. Two of the three lakes are open to anglers and are stocked with largemouth bass, sunfish, bluegill and channel catfish. With its gentle waters and peaceful surroundings, this is another great spot for families with small children and beginners.
Why we love it: Long after the excitement of fishing wanes, you'll be able to keep your kids entertained at this county park. There are all the usual park features: miles of trails, picnic shelters, and playgrounds. But there's also a 6,500 square foot Nature Center with interactive exhibits and a 50,000-gallon aquarium where kids can get an up-close look at the diversity of the underwater world. Just be forewarned. If you take your kids to befriend the fish at the aquarium, they may object to the whole hook thing when it comes time to fish.
Location: 400 Sausiluta Dr, Henrico, VA 23227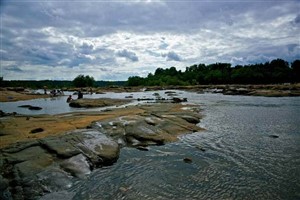 2. Belle Isle
There's no fishing spot more scenic or more Richmond than Belle Isle. With sweeping views of the James and downtown Richmond, its atmosphere is second to none. You can fish multiple spots along the river banks or enjoy the stocked quarry pond on the island. Fish along this section of the James include catfish, striped bass, large and smallmouth bass, and shad. Just make sure to bring your pole and tackle box when you cross the pedestrian footbridge from Tredegar Street. And if you have little ones keep a close eye on them as the rapids around Belle Isle can be powerful and dangerous.
Why we love it: It just doesn't get prettier than Belle Isle. Even if you catch nothing, it's a great place to pass a lazy morning or afternoon. Kids will love to run across the footbridge over the river, and if they get tired of fishing, there are tons of trails to explore around the island. Bring along a swimsuit and a picnic and hang out in the sun on the large rocks along the banks.
Location: Lee Bridge Richmond, VA 23225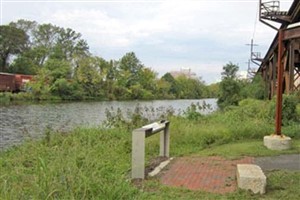 3. Great Shiplock Park/Chapel Island
If you want to give your kids a history lesson along with their fishing, this downtown spot is the best of both worlds. You'll find a restored ship lock and working canal lock in Great Shiplock Park, which was renovated in 2013 as part of the Capitol Trail construction. Across a short footbridge is charming and historic Chapel Island, where there are places to fish in the tidal James for shad, white perch, rockfish, smallmouth bass, herring, and several types of catfish.
Why we love it: It's always nice to throw a little historical education into an outdoor family outing, and this is the place to do it. Your kids will be able to see Richmond's past up close, when locks connected the James River with the Richmond Docks and the Kanawha Canal served as a transport hub for the tobacco warehouses along Dock Street. And when they're tired of the history lesson, they'll have a great time fishing in the tidal pools on Chapel Island or exploring the half-mile of winding trails. There's also a convenient parking lot at the entrance as well as restroom facilities.
Location: 2803 Dock St, Richmond, VA 23223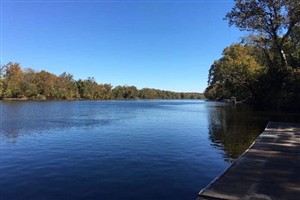 4. Robious Landing
It's hard to beat the beauty of the James when it comes to fishing. And Robious Landing in Chesterfield offers a great spot for family fishing. The 102-acre site also houses 3.4 miles of trails, playgrounds, picnic shelters, and sand volleyball. Fish along this section of the James River include smallmouth bass, bluegill, redbreast sunfish, channel catfish, and gar.
Why we love it: Anyone who knows Richmond knows its heart is the James. And for a fishing trip that your kids will remember for a lifetime, take them straight to the heart. Even if you don't catch a single thing, your kids can still take in the splendor of their surroundings, from the sycamore, ash, and birch trees along the river bank to potential sightings of osprey, eagles, hawks, and herons. And if they get bored easily, there's plenty of non-fishing things to do, from volleyball to a playground to picnic shelters, as well as restroom facilities available. And if you really want to make a day of it bring along a kayak or paddle board and experience the James up close.
Location: 3800 James River Rd., Midlothian, VA 23113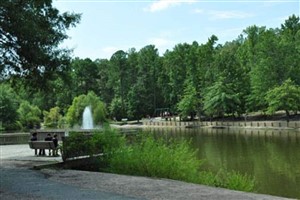 5. Deep Run Park
Located in Henrico, Deep Run Park is already a family favorite for its miles of paved trails, multiple playgrounds, and peaceful, leafy surroundings. But its two large lakes also offer some pretty fantastic fishing and are stocked with largemouth bass, bluegill, sunfish, and crappie. This is a great option for fishing newbies or kids who aren't quite ready for larger bodies of water.
Why we love it: With a full-sized playground adjacent to one of the lakes, this is a great spot for little anglers whose patience may be tested by the waiting game of fishing. Even though the park is centrally located in the middle of the Henrico suburbs, its wooded setting feels secluded and serene. It's a great spot for short fishing trips. And for any family member who is less than enthusiastic about the prospect of touching a scaly fish, it's easy to take advantage of the rest of the park, from walks on the trails to picnics in one of the many gazebos.
Location: 9900 Ridgefield Pkwy., Henrico, VA 23233