Post by GhostComanche©® on Mar 8, 2021 23:51:50 GMT
Cold Weather Fishing at Lake Anna
by
Fike Outdoors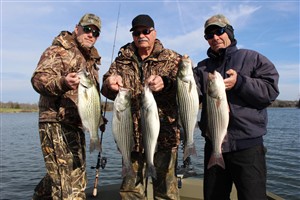 My father in law was in town to visit for Christmas, and deer hunting and duck hunting had been extremely slow. So, I decided it was time for a fishing trip to keep the juices flowing. It had been a long time since I had fished with Chris McCotter at Lake Anna (McCotter's Lake Anna Guide Service
www.facebook.com/McCottersLakeAnnaGuideService/
) so I shot him a quick e-mail hoping he had a half day to get us out on the water for a striped bass.
Turns out that Chris was more than willing to take us, plus my father, out on the lake and educate me on some winter fishing. We arrived at 7 AM at High Point Marina as Chris was backing his Grizzly boat into the cold waters of Lake Anna. After taking care of business in the marina, we headed to the boat to reacquaint ourselves with Chris.
If you have never fished with Chris McCotter you are missing out. This is particularly true if you want to learn about Lake Anna. McCotter also runs Woods and Waters magazine (https://www.facebook.com/Woods-Waters-Magazine-324686819747/) which is read statewide and covers the gauntlet of the outdoors with informative articles, tips and destinations for outdoorsmen and women. Chris also knows Anna like the back of his hand.
Within fifteen minutes or so of running uplake to a location Chris thought we might see some striped bass, we were casting swimbaits to feeding stripers. It was not long before my father hung one and brought it boatside for Chris to net. Not long after that I was able to catch my first hybrid (a striped bass/white bass cross) and put him in the livewell.
Chris moved us around to try to to stay on top of the fish and we kept pecking at them throughout the morning adding another three fish to the livewell and then returning one that was just shy of ending up on the supper table.
Once the striper bite died off some, Chris took the time to tutor me on the side imaging of his Hummingbird sonar unit. I was amazed at the clarity of the unit as I watched the screen show boulders, fish, shadows of fish, pier pilings and even rocks! Chris was very patient with my rapid fire questions about the unit and its abilities and it was obvious he was well tuned to how to squeeze all the info out of the sonar that he could to put clients on fish.
We caught up on the past 15 years (Man I waited too long to get back out and fish with him!) and discussed everything from bird hunting, dog training, duck hunting and even kids. The weather started to warm up and since the striper were no longer in a feeding frenzy, Chris took us over to a dock he knew that held crappie. We picked at them for a bit with my father in law catching most of them. Since they were not ready for the pan, we decided to call it a day, get some photos and make plans for a trip in the future. Chris was kind enough to get some photos with my camera for us (ALL PHOTOS BY CHRIS McCOTTER) and I appreciate him doing so. I don't get to appear in many photos with my father, let alone my father and father in law.
I plan on booking Chris for a summer bite for the striper and hybrids.
I can tell you the fish were soooo good tonight that I was not able to get any photos of the filets after they were cooked. They kept disappearing from the plate before I could get my camera. I cooked some with Old Bay, some with Creole and some with Blackened Cajun spice from Kenny's. Not one piece was left!
Thanks Chris for your professionalism, kindness and a great day out on the lake. What a great change of pace it was to catch fish instead of pull the trigger on meat!